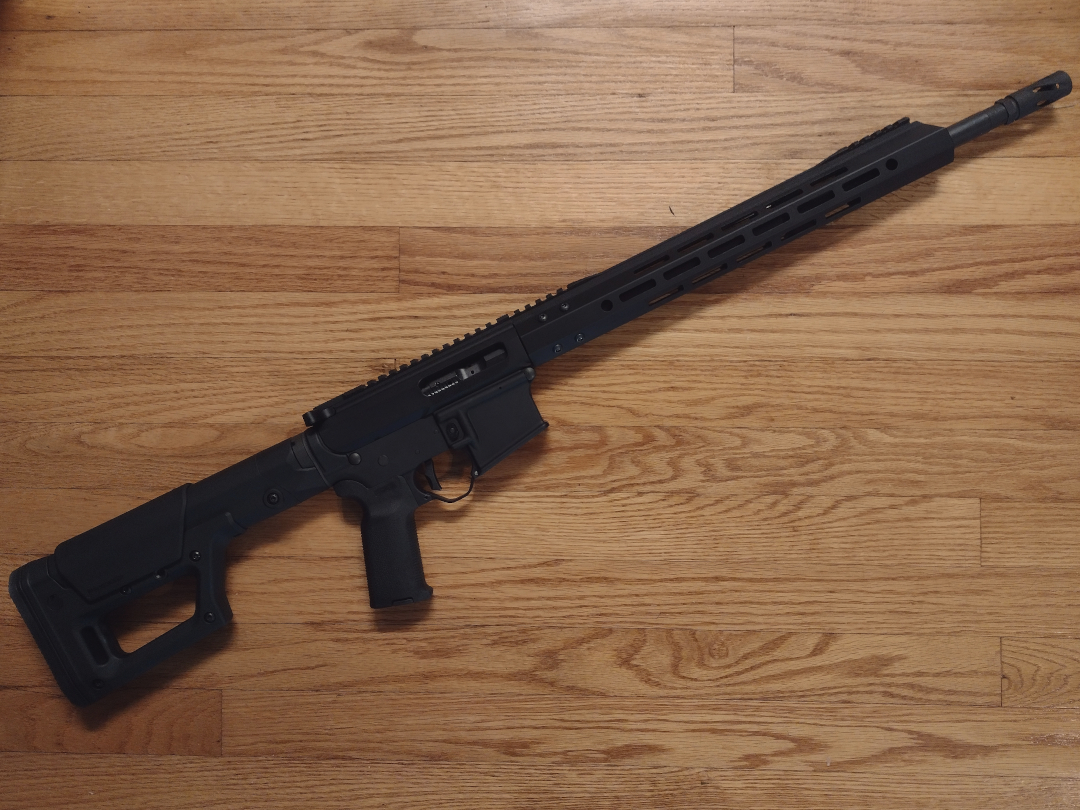 Bear Creek Arsenal's 7.62x39 18" Mid-Length Gas System Sporter Slick Side Upper
By George Ross Jr. August 10, 2022
Bear Creek Arsenal keeps on updating their complete upper assembly offerings. Much to my delight. Today we are going to take a look at one of the latest to hit the scene the "Sporter Slick Side Upper". This upper was released after their Gen 2 side charging uppers.
The standout feature of this complete upper is the upper receiver itself. It is what they call the "Sporter Slick Side" which is marketing speak for an upper receiver the doesn't have a forward assist, brass deflector, and dust cover. I personally really like the look of the "Sporter Slick Side Upper". I have never once used the forward assist on an AR and I don't ever plan to either so there is no reason to have one on an AR in my option. The brass deflector is of no use once you get your AR tuned to the point of having shells eject at the 4 o'clock position. So removing these two items has no negative effects on how the rifle functions for right handed shooters. The dust cover isn't a must have item, but it is something I do like to have on my AR's. However I think a dust cover would definitely not be visually appealing on this particular upper receiver.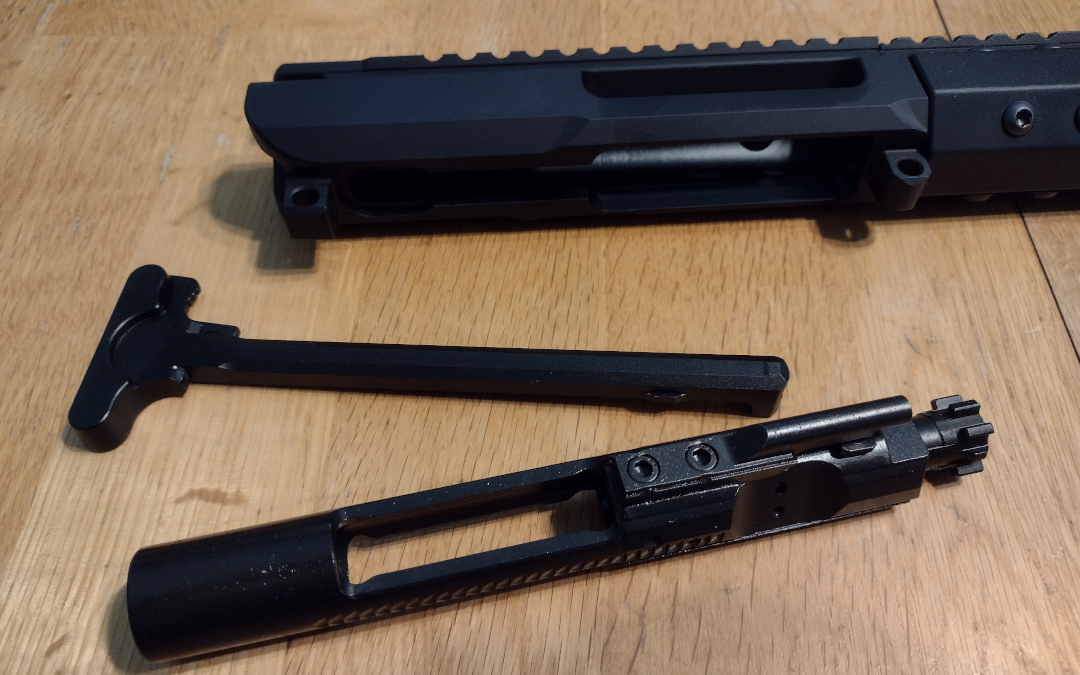 Another noticeable feature of this complete upper is the updated hand-guard. It features a new rail design that lightens the guard. It also has M-lok slots at the 1:30, 3:00, 4:30, 6:00, 7:30, 9:00, and 10:30 positions. Unlike the old style light weight hand-guard that only had M-lok slots at the 3,6, and 9 o'clock positions. This gives you more options which is never a bad thing. They also updated how the hand-guard is secured to the barrel nut by having screw attachments at 1:30, 4:30, 7:30 and 10:30 positions as opposed to the 3, 6, and 9 o'clock positions on the older light weight hand-guard. This should make for a more secure attachment as this adds another attachment point and provides even pressure all around the attachment point.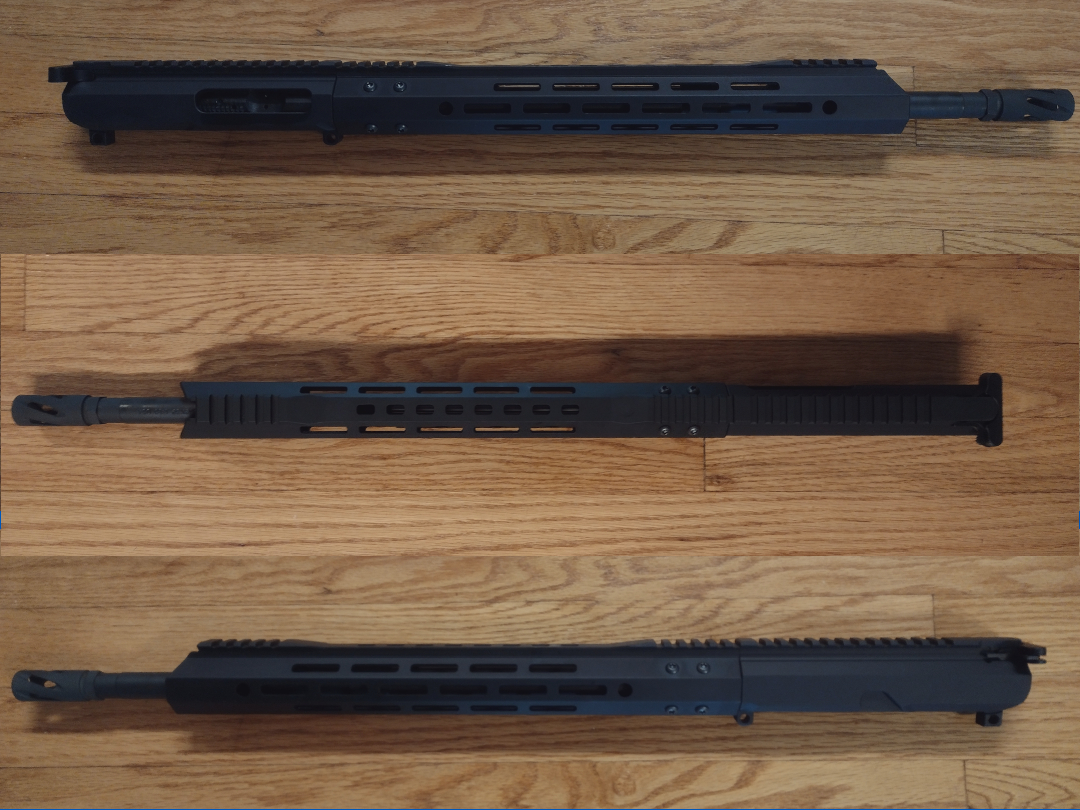 These new features add up to a really nice looking complete upper.
Packaging/Shpping
Bear Creek Arsenal has paying attention to their customers feedback I believe. I know one of my concerns were with small blemishes on the finish of at least a couple of my previously purchased complete uppers. I was making the mistake of thinking that they left the factory with those blemishes, but perhaps the issue was with the old style packaging that they used to employ. While the all eggshell foam padding kept the complete upper free from major damage it did allow for the upper to move around in the box. This maybe where some of the blemishes came from. As not all package handlers treat their packages like babies. So Bear Creek has updated their packaging. While the box still looks the same on the outside the inside has been reworked to prevent the upper from moving around in the box during shipping. This was achieved by using a stiffer foam to hold the ends of the upper while still keeping some measure of eggshell foam padding in the middle of the box to prevent damages from occurring do to the box being crushed. I would like to see the eggshell foam padding go all the way to the stiffer foam that is used on the ends, but this upper did come free of any cosmetic imperfections. So not much room to complain about that.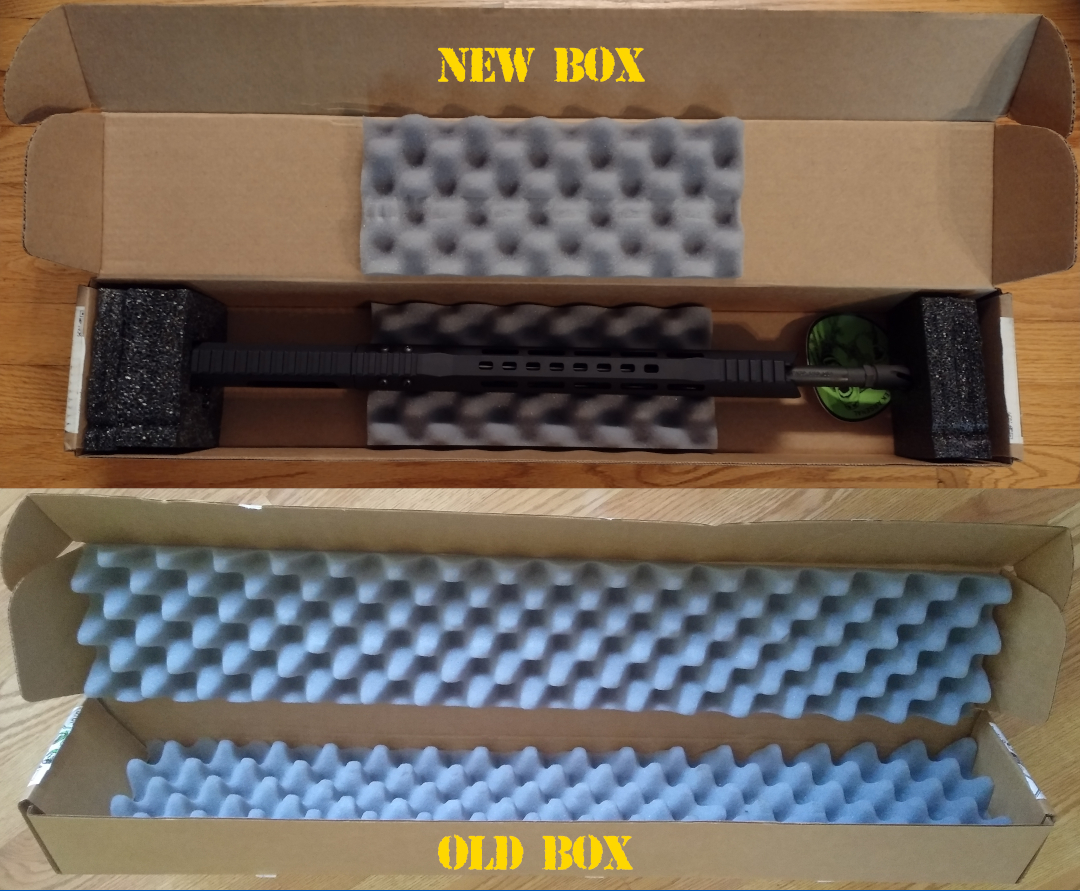 Fit and Finish
Like I said previously this finish on this upper came to me in pristine condition. It doesn't take much to scratch or ding the finish, but the upper came to me in excellent condition.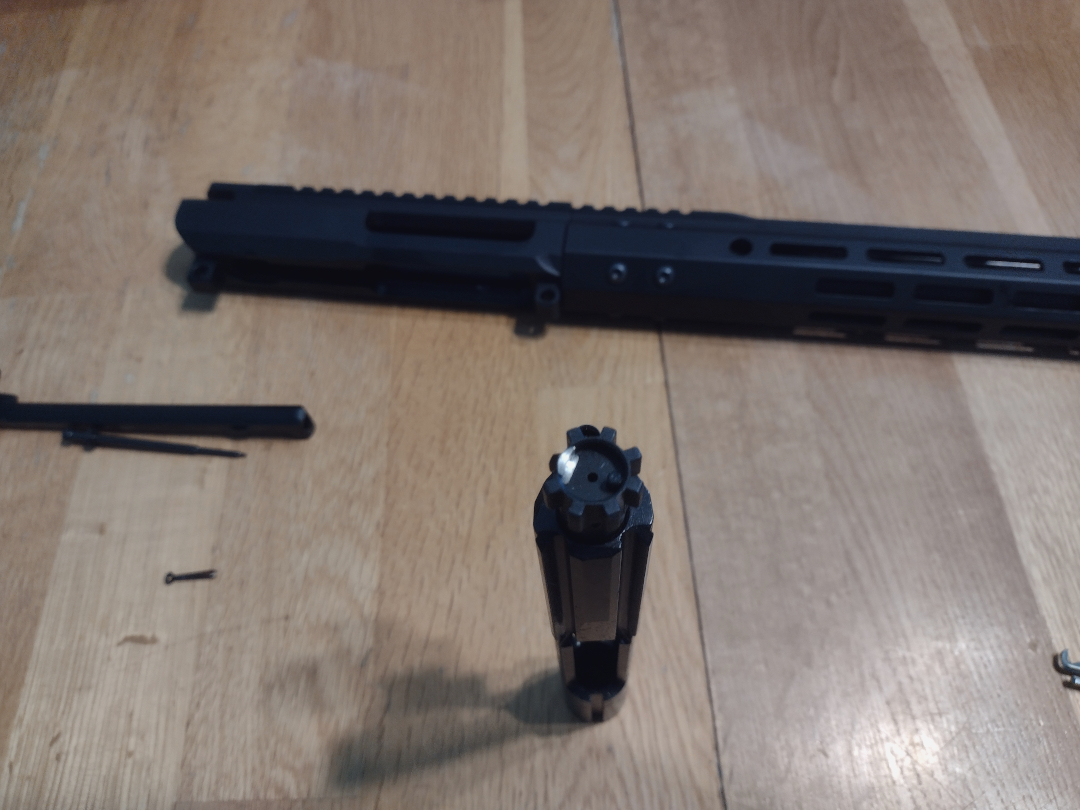 The construction of the upper is solid. I didn't see any loose pieces and I did check because Bear Creek used to have problems with gas blocks not being torqued correctly. I have several of their uppers and have only had one come to me with a loose gas block. Again this is where I think Bear Creek Arsenal is actually paying attention to there customers feedback. If you look at reviews on their website from years gone by loose gas blocks were a common compliant.
Test Build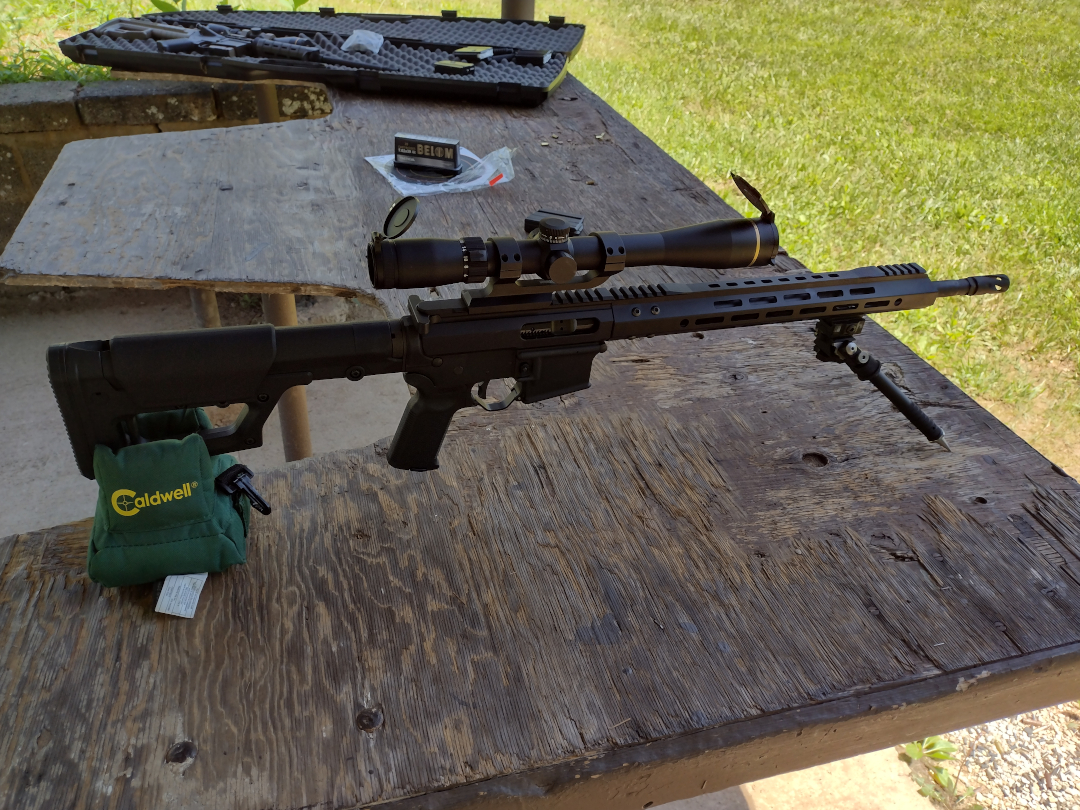 Below is the complete parts list I used to test this complete upper. I also included links to for you if you see a part that catches your fancy.
At The Range
Something to bear in mind is the complete upper that is being reviewed here today has a mid-length gas system. So, once I got it to the range I tried it out with the buffer setup I normally use for 7.62x39 carbine length gas systems and I was having trouble with failures to feed. This was the result of me using a buffer weight that was to heavy for the mi-length gas system that this complete upper utilizes. Rounds would fire and eject, but would not move the bolt carrier group back far enough to load the next round. So to mitigate this problem I went with a buffer that had a lesser weight. My normal setup as far as the buffer is concerned is a flat buffer spring and a H2 buffer weight (4.6 oz). This setup works well with a carbine length gas system. I was hoping that the mid-length gas system would work with this setup as well reducing the felt recoil, but alas it did not. So, I went with a Spikes Tactical ST-T2 buffer (4.0 oz). This got me back to reliable cycling with the shells ejecting at 4 o'clock. It is quite amazing how fractions of an ounce can effect the cycling of an AR.
Once I got the cycling of this new to me gas system figured out it was time to zero this unit in at the usual 50 yards.
Reliability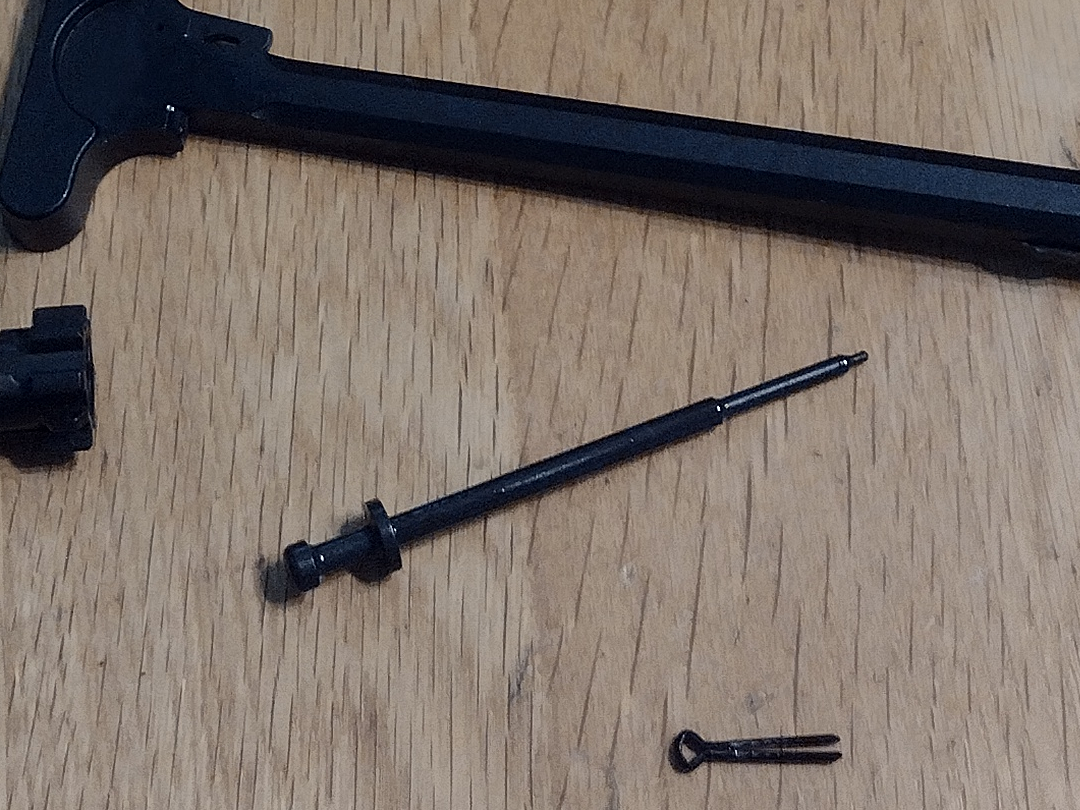 Bear Creek Arsenal has done a great job of making their 7.62x39 complete uppers reliable right out of the box unlike some other manufacturers. All 7.62x39 complete uppers from Bear Creek Arsenal come with an enhanced firing pin. These enhanced firing pins makes even those stubborn Berdan primers go off every time the trigger is pulled. Before those primers can be set off the ammuntition needs to be reliably feed into the chamber. This is where the 30 caliber feed ramps come into play. Unlike your standard M4 feed ramps which were designed for 22 caliber ammunition 30 caliber feed ramps accommodate the wider 7.62x39 round. This leaves you with only one other consideration in making a reliable AR-47 and that is the choice of magazine. On that front I have found that ASC or DURAMAG 10 round magazines pair very well with Bear Creak Arsenal 7.62x39 complete uppers.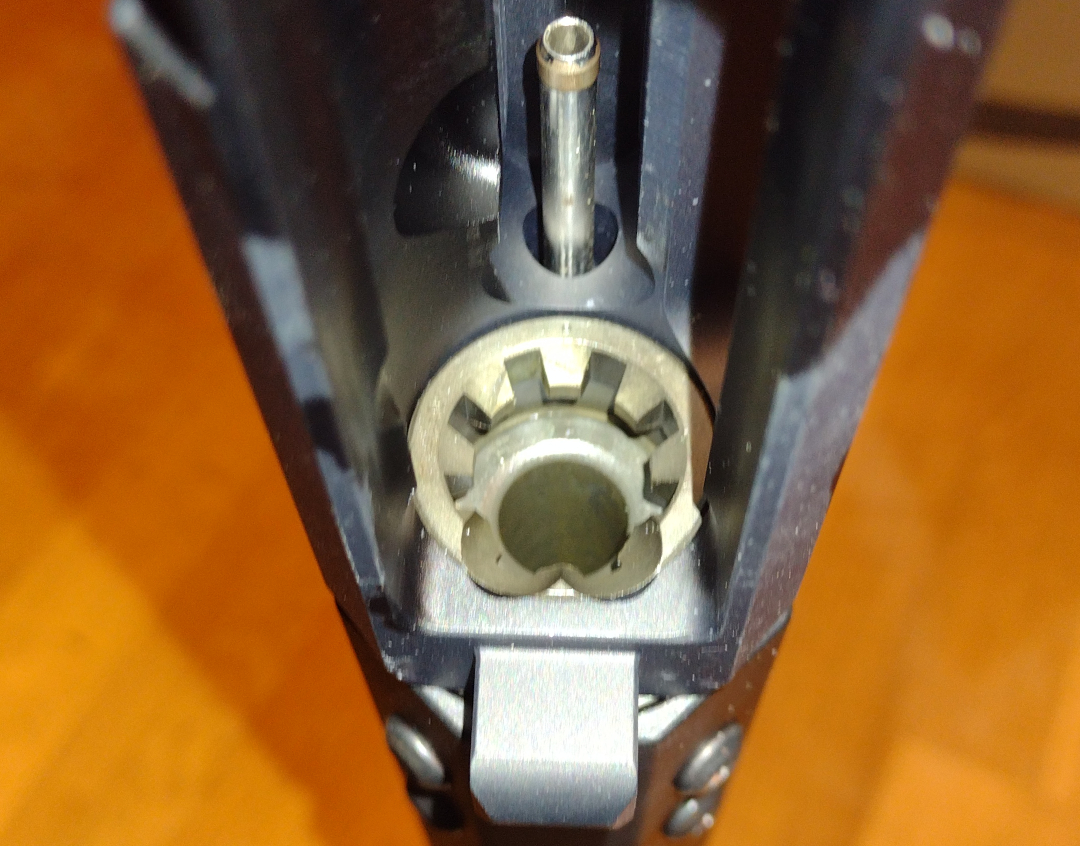 Accuracy
I have neglected to do an accuracy examination of complete upper receivers in the past due to my poor shooting skills which were put on full display with an ammunition comparison I did almost a year back. Now that I have found the superb JARD AR Set Trigger I am much more comfortable evaluating the accuracy of an upper as this trigger takes a good bit of my poor performance out of play with a clean break and 13 oz. of pull weight.
7/8" grouping in a single ragged hole is what I am getting at 50 yards. I think it is fair to to say this complete upper will do it's part if I do mine. If you are looking for better performance than this you should be looking at other platforms and loading your own ammunition.
Conclusion
Bear Creek Arsenal's 7.62 x39 complete uppers keep on getting better and better. They show that they are willing to learn from their customers feedback. They are willing to look beyond the mil-spec rifle and not just give you an upper that is just a different bolt head with an appropriate barrel. They are exploring different charging options. Which leads to new upper receivers based on mil-spec bolt carrier groups. They continue to update/improve their hand-guards. All of this while navigating these troubled times and keeping quick shipping and good customer service. Bear Creek Arsenal is doing a lot of things right in a time where manufactures put up an excuse banner as to why they cannot. Which makes me wonder how can a "budget" manufacturer accomplish all of this?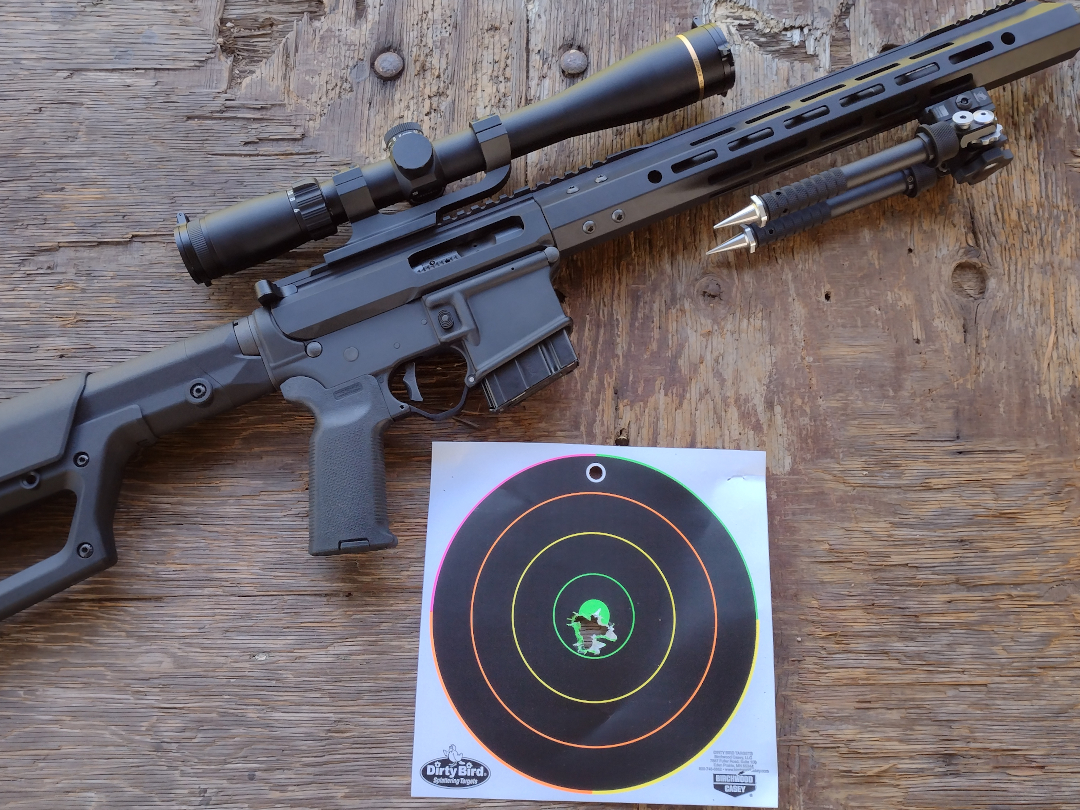 For a price of $260 how can you go wrong with the BC-15 | 7.62x39 Sporter Slick Side Upper | 18" Parkerized Heavy Barrel | 1:10 Twist | Mid-Length Gas System | 15" MLOK complete upper? It checks all the major boxes reliability, accuracy, fit and finish, and price. Bear Creek Arsenal is only getting better. If they keep customer feedback as their guiding light who knows where it will lead them? It's not failing them thus far.